It has actually been looking a lot like Christmas for nearly two weeks at our house. We will have had our Christmas decorations up for two weeks as of tomorrow. Obviously I was a little excited about Christmas! Or maybe it was just the only time where all four of us would be home together and have time to put up our tree. =)
This is our third Christmas using the tree we have now. Every year I tell myself I'm going to buy a new one, but I never do. Our tree isn't too bad, but I would prefer something bigger and with fuller branches. Our tree is constantly a work in progress. From the day it goes up, till the day it goes down, I will be adding new ornaments, moving ornaments around, messing with the branches, etc. For some reason I am a little OCD when it comes to the Christmas tree.
Our tree is a pre-lit 7ft (I think), that we bought at Big Lots for somewhere around $30. When we bought it, I was pregnant with Aiden. I remember we put it up on Friday, November 28th and Aiden was born the next day. If we can ever get our schedules to coincide, I'd like to make it a tradition that we put up our tree every year on the 28th. It doesn't look like that is going to happen anytime soon though.
As much as I'd like a bigger tree, I'm a little glad we don't have one. Since we moved into an apartment this year, space is limited. As you can see, our tree fits perfectly in this spot. If it were any bigger, I'd have to move more furniture around. I also don't feel like we have enough ornaments. I try to buy a few new ones every year. I'm sure if I keep buying a few a year, in a few years our tree will be full.
When Aiden was born, I started buying him a Hallmark Keepsake Ornament from their Child's Age Collection. Every year he gets a new ornament in the set. His set features a bear who grows older each year. It also has the date on the back of the ornament. The number stands for his first Christmas, second Christmas, and now his third Christmas.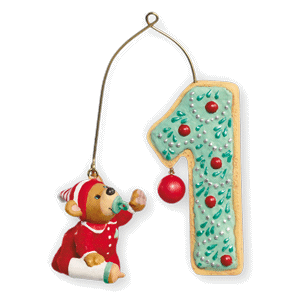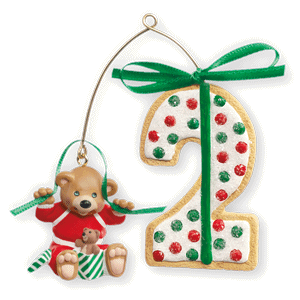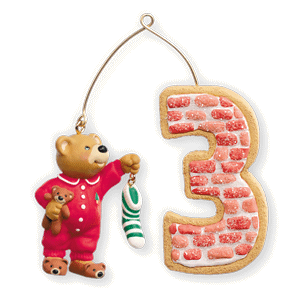 This year I have also added a "village" to our Christmas decorations. When I first put them up, I was not very impressed. Jaime really likes them though, and I am starting to like them more too.
We also have our stockings hung, but I haven't taken a picture of those yet. I also haven't taken a good picture of our Nativity scene. The picture I have of it is very blurry. I will take those pictures soon and post them here as well. I also have one more decoration that I am going to post about sometime this week. It is something that I grew up with at my parents house and now we have it at our house. That's the only clue you get for now, you'll just have to come back and read about it later! =)