Earlier tonight Jaime and I took the kids to the Gwinnett County Fair. I have been going to the fair for as long as I can remember, and it is nice to be able to take Aiden and Jenny now. Jaime and I have been taking Jenny every year since she was two years old. Last year was Aiden's first year to go, but because he was so small there wasn't much he could ride. This year he was able to ride a lot more, and he had a lot of fun! Of course, Jenny had lots of fun too, but I think she is starting to get to the age where she is starting to get bored with the kiddie rides, but she's still too small for the bigger rides.
This was their first ride, and they loved it! As you can probably see, I rode behind them because I was afraid Aiden would try to get off of the ride if he didn't like it. They really enjoyed it though, and I could hear them both laughing as we drove along. Aiden wanted to ride this one again and again.
This was the 2nd time they rode it, this time they rode without me.
Aiden was also very excited to ride this one, because he is so interested in trains right now. As soon as he saw it he pointed and started yelling, "Choo-Choo Train!!". They rode this one twice too, the first time with me and the second time they rode without me.
Jenny picked out this ride. She liked it because she said it was a water ride because the alligtors were like little boats floating in the water.

The swings! These were my favorite when I was Jenny's age (if I remember correctly), and I think they were hers too. I was really hoping Aiden would be able to ride these, especially because I know how much he likes to swing, but he was too short. The adults can ride this one too, but even with an adult riding Aiden was still too short.
The car ride was one that they both really liked. The cars went around on a little track, but when they got to the parts of the track that were curved, it went really fast around the curve. The first time they rode this one their car was parked right before the curve started. So, when it went around that first curve really fast Jaime and I thought for sure that Aiden was going to scream the rest of the ride. But he didn't! He ended up really liking it, and they rode this one two or three times.
This was one of the rides that Jenny rode without Aiden because he was too short. I probably wouldn't have let him ride this anyway, because it was something that only kids could ride. I didn't know how comfortable I would have felt knowing he was so high up and could have possibly tried to come off the ride. Jenny wasn't too thrilled with this one though. She was a little scared to get on it, but then when she got off of it she said it was boring. Ha!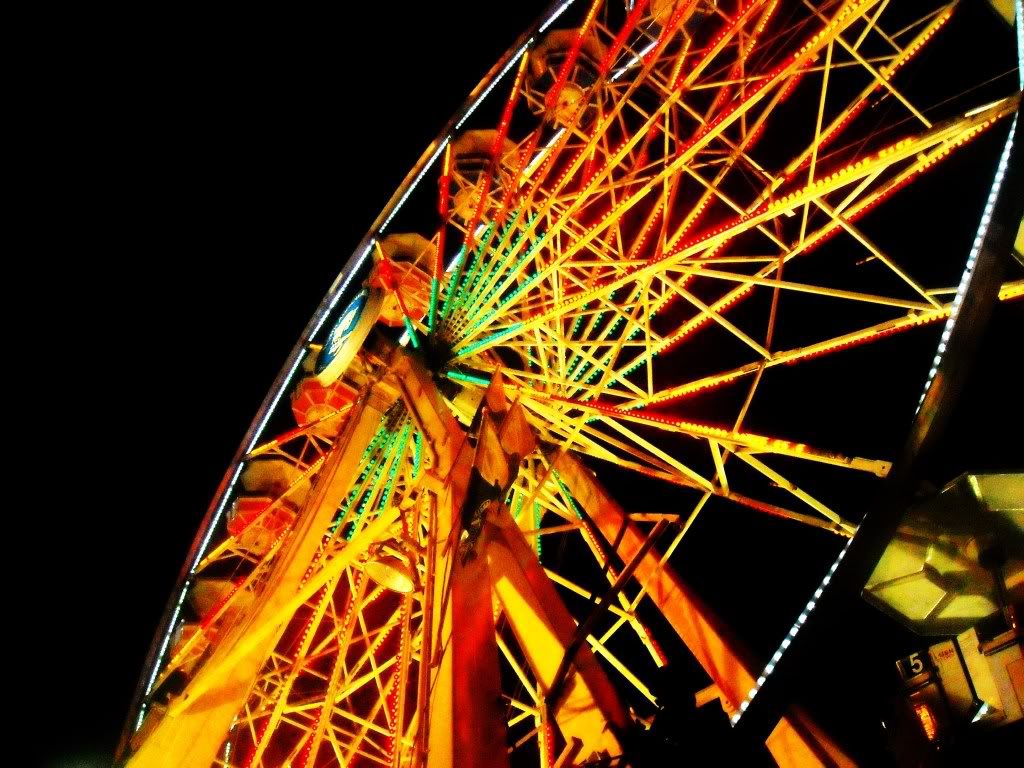 Jenny and I rode the ferris wheel together. She said she really wanted to ride it because she had never ridden before. I was a little nervous to let her ride it because I didn't know how she'd react when the ride stopped to let people on and off and we were at the top. Sure enough, when the ride stopped with us at the top she was nervous. I think she would have been alright, but there were two young girls riding with us and they were acting like the ride was broken since it stopped with us at the top. So of course Jenny thought the ride was broken and we were going to be stuck up there forever. I told her that they were just stopping it so someone else could get on and we would start moving again in a few minutes. She was ok after that, and it didn't take long before the ride started moving again.
Overall, we all had a great time! It was a great way to spend the evening as a family, and it created memories that we won't soon forget. Jenny has already asked me when we're going back again - she knows we usually go at least twice. She is such a smart girl, and doesn't forget anything. =) The funny thing is, we were already making plans to either go back tomorrow or Saturday night. We can't wait!